Calendar & Upcoming Events
We are currently having Morning Worship Service at NMO and 
on our ZOOM FELLOWSHIP LINE
Adult Sunday School and Youth Fellowship Hour - 9:30 a.m.
Sunday Morning Fellowship – 11:30 a.m. (IN PERSON AND ON OUR ZOOM FELLOWSHIP LINE)
Wednesday Evening Prayer and Bible Study – 6:45pm to 8:00 p.m. (ZOOM FELLOWSHIP LINE)
MEETING ID: 828 5228 1620
PASSCODE: 089913
CALL IN: 1-301-715-8592
FEATURED EVENTS
(Click A Walk Through the Bible - 2022 Below for Details)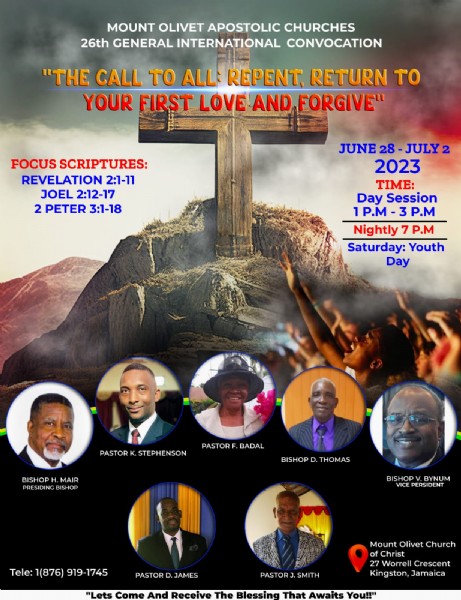 UPCOMING EVENTS
View New Mt. Olivet Apostolic Church 2023 Calendar
ORDER OF WORSHIP SERVICES
SUNDAY
Sunday School – 09:30 a.m.
Morning Worship – 11:30 a.m.
Afternoon Worship – 3:30 p.m.
1st Sunday – Brotherhood Ministry
2nd Sunday - Missionary Ministry
3rd Sunday – Joy Fellowship
4th Sunday – Youth Department
5th Sunday – Combined Fellowship
HOLY COMMUNION
1st Sunday in February, April, June, August, October, December
WEDNESDAY
Pryer & Bible Study – 6:45 p.m. to 8:00 p.m.
RADIO BROADCAST
"OPERATING FROM AN AREA OF STRENGTH"
Sundays at 10:30 a.m. and Wednesdays at 11:30 a.m.
WYCB 1340 AM / www.myspiritdc.com on the internet
WE BELIEVE . . .
Repentance through faith in the forgiving power of Jesus Christ and through faith in His name (JESUS). John 20:20-31
Water Baptism by immersion. Matthews 3:13-17, Acts 2:38
Infilling of the Holy Ghost (Spirit). Matthews 3:11
Tithing. Malachi 3:8-11
WE BELIEVE and accept the fact that the Bible is the infallible, unequivocal and indisputable word of God. "Holy men wrote as they were moved by the Holy Ghost (Spirit)." No scripture has any "Private interpretation" (II Peter 1:20-21); one must at all times seek God's divine revelation where understanding the word of God is concerned.
WE ACCEPT the fact that the Bible contains everything a person needs to save his soul and to be ready for the grand return of Christ the Lord.
WE BELIEVE and accept the fact that no man can obtain eternal life except that person believes in the Name of Jesus Christ, the eternal God and accepts Him as Lord (Savior). The Bible states "these are written that ye might believe that Jesus is Christ, the Son of God; and that believing ye might have life through His Name" (John 20:31). "Neither is there Salvation in any other; for there is none other Name under heaven… whereby we must be saved" (Acts 4:12).